The organic structure of the Ministry of Foreign Affairs and Cooperation consists of the General Secretariat, responsible for ensuring instrumental or support services for the internal functioning of the ministry, in the areas of general work, financial management and coordinating with respective 8 national directorates under its administration; the General Directorate for Bilateral Affairs, responsible for monitoring and coordinating the diplomatic relations among Timor-Leste with other States over three national directorates; the General Directorate for Multilateral and Regional Affairs, responsible for monitoring and coordinating Timor-Leste's participation within the framework of international organizations with the reinforcement by 3 National Directorates; the Directorate General for ASEAN Affairs, responsible for monitoring the ASEAN accession process. This directorate has 3 national Directorates; the General Directorate for Consular and Protocol Affairs, responsible for administer the network of Timor-Leste's consular posts, and organizing the State's protocol under the establishment of the three core national directorates; Lastly, the Inspection and Audit Office that responsible for verifying compliance with legislation and regulations relating to the functioning of the Ministry's internal and external peripheral services. The Inspection and Audit Office reports directly to the Minister. The Inspector of the Inspection and Audit Office, appointed under the terms of the management and leadership positions of the Public Administration.
Minister Profile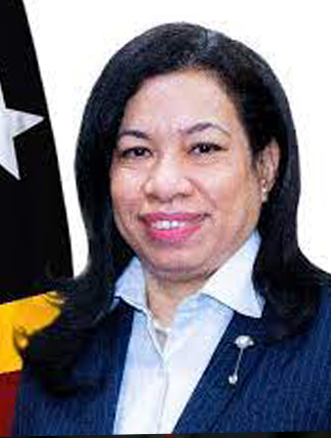 DR. Adaljiza Albertina Xavier Reis Magno
Minister of Foreign Affairs and Cooperation of Democratic Republic of Timor-Leste
She started her professional career with several Non-Governmental Organizations in Timor- Leste afterward decided to be actively engage in politics and proverbial as a gender advocate and human rights activist. At the first election in 2001 and at the age of 25th, she was elected as a member of Constituent Assembly in Timor-Leste from FRETILIN political party. Constituent Assembly was the first democratic body in Timor-Leste before restoration of Independence that had a special mission to write and approve Timor-Leste's Constitution. On the Constituent Assembly transformations to the National Parliament in 2002, she expediently continued served as a member of the National Parliament until 2005. In the same year in 2005. At the age of 30th, she was appointed as the Vice Minister of Foreign Affairs and Cooperation for the 1st, 2nd, and 3rd Timor-Leste's Constitutional Government under three different Prime Ministers. In the Third Constitutional Government, she was appointed as Acting/Interim Minister for Foreign Affairs and Cooperation for 3 months until the Fourth- Constitutional Government was formed.
Dr. Magno studied Economic at Sekolah Tinggi ilmu Economic Atma Bhakti under the Sebelas Maret Foundation in Solo – Surakarta, Central Java, Indonesia. Dr. Magno was extremely active in several youth organizations namely PMKRI (Union of Catholic University of the Republic of Indonesia), Sahe Study Club based in Jakarta and IMPETTU Surakarta (Union of Timorese Student from Timor- Leste in Surakarta). Following completion of her economics degree she started its professional career as a volunteer at Yayasan HAK (HAK Foundation), FOKUPERS (Communication Forum for Timor- Leste Women) and Sahe Institute for Liberation (SIL) and several Non- Governmental organizations based in Dili.
Dr. Magno is deeply concerned about the importance of good-governance for new democratic society like Timor-Leste. For her, it is important to have a strong foundation for good public management. She strongly believes that education will be one of the best ways to improve her skills in public management and to understand more on how to design good public policy for her newborn country. Therefore, she decided to continue her studies in Master's level to improve her capacity and expertise in public management. In 2013, she successfully concluded her Master's Degree in Public Management from Victoria University of Wellington in New Zealand.
Vice Minister Profile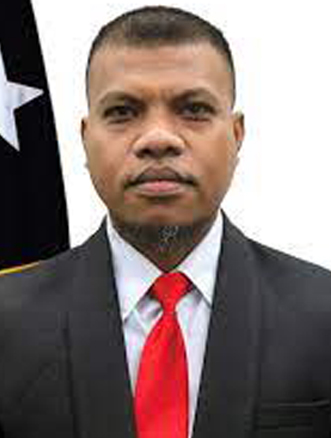 MR. JULIÃO DA SILVA
Vice - Minister of Foreign Affairs and Cooperation of Democratic Republic of Timor-Leste
Mr. Julião da Silva, Born in Viqueque on October 8, 1984, and permanently lives in Dili. Married with Domingas Cristiani Soares Freitas, and has 6 childrens. Son of Martins Freitas, (farmer) and Maria de Menezes. In 2005 been graduated from Junior High School at Liceu 4 de Setembro Dili. Following extensive leadership and management training, and having experience in small community groups and community organization, national and international NGO organization. Combination of strategic program and planning experience with practical, hand-on skills. Conscientious, extremely hard working, and keen to take on new responsibilities. Apart of these, Mr. Julião da Silva have had experience as; Community Based Health and First Aid Program Manager with Red Cross in Timor-Leste and Program Manager to the Marie Stop International Timor-Leste (MSITL), funded by DFAT) and 2.3 Million per-year Expended Experience for program implementation.
Mr. Julião da Silva's Political career was started in 2011 as KHUNTO board member and in 2017 – June 2020 Mr. Julião da Silva been appointed as Secretary of State for Professional Affairs and Employment in VIII Constitutional Government to representing KHUNTO Party. Beside that Mr. Julião was also a Volunteer at the Timor Leste Red Cross – National Society.
Secretary General Profile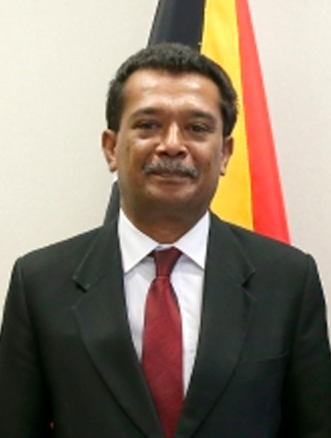 FRANCISCO TILMAN CEPEDA
The Secretary-General of the Ministry of Foreign Affairs and Cooperation of Timor-Leste
Ambassador Francisco Tilman Cepeda is a career diplomat, currently holding the position as the Secretary-General of the Ministry of Foreign Affairs and Cooperation, the same position he previously held between 2012 and 2015. Being Secretary-General, Mr. Cepeda leads the central service of the Ministry, responsible for managing, coordinating, supervising and ensuring administrative support to the whole Ministry, including Timorese Permanent and Temporary Missions abroad (the External Peripheral Services). As one of the pioneers of Timorese Foreign Service since its inception in 2001, Mr. Cepeda has held various positions at Timorese Embassies abroad, amongst others, as the Ambassador Extraordinary and Plenipotentiary of Timor-Leste to the Republic of the Philippines between 2008 and 2012 and Ambassador Extraordinary and Plenipotentiary of Timor-Leste to the Kingdom of Belgium and the European Union between 2016 and 2021.
During the chairmanship of Timor-Leste of the Community of the Portuguese Language Countries (CPLP, the Portuguese acronym), Ambassador Cepeda was entrusted with the role to coordinate the organizing committee for the Summit of the Heads of State and Government of CPLP that was held in Dili in 2014. Aside of being a native speaker of Tétun (the national and co-official language of Timor-Leste), Ambassador Cepeda is also fluent in Portuguese, English and Indonesian.
MoFAC Chart's