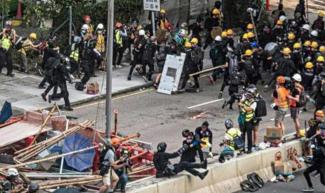 he number, significance, and pace of global developments in the last few months of 2019 has felt unprecedented, with major developments in the U.S.-China cold war, Hong Kong, Brexit, Syria, and impeachment in the United States, plus hotspots across Latin America and the Middle East, it looks like the world will continue to heat up in 2020.
Cold War II: Navigating a superpower relationship going south while economic disengagement takes hold
A mini-deal between China and the United States that dials back or defers some tariffs could be struck in 2020, but a comprehensive agreement is out of the question. Rather, superpower politics are likely to confound the rich economic relationship in many ways, and the longer the animosity endures, the deeper it will be engrained.
In the United States, there is a bipartisan push to prevent U.S. pension funds from investing in Chinese equities, the Treasury Department is moving forward with new rules tightening national security restrictions on foreign investments, and the Commerce Department is working to specify which technologies will be subject to new export restrictions. After Commerce started curtailing business with Huawei earlier this year, Beijing announced in May that it would publish an "unreliable entities" list, which has not yet been released.
Then in August, President Trump also added Chinese exports of fentanyl to his rationale for new tariffs. In November, he signed legislation that could end Hong Kong's special trade relationship with the United States and would mandate sanctions on Chinese officials should Beijing crack down on the demonstrations in Hong Kong. As the sanctions on Russia have shown, restrictions imposed by Congress are nearly impossible to lift.